– 

IMPROVING THE LIVES OF CHICAGOANS

–
Through 2022, CDF has invested in 42 projects which will support the following impacts at full operation:
JOBS
Support 5,800 Permanent, Full-Time Equivalent jobs ("FTEs"), of which 88% will earn a living wage and/or benefits, as well as 2,300 temporary construction jobs
SERVICES
Serve 205,000 clients via services such as low-cost healthcare, job training and placement, and after-school programs
HEALTHY FOODS
Provide 186,000 residents of USDA-designated Low-Income, Low Access areas with access to healthy foods
–

LEVERAGING PRIVATE INVESTMENT

–
CDF has provided $416.5 million in New Markets Tax Credit (NMTC) allocation to 42 projects with $866 million in total costs and the following sources:

–

SUPPORTING AREAS OF GREATER ECONOMIC DISTRESS

–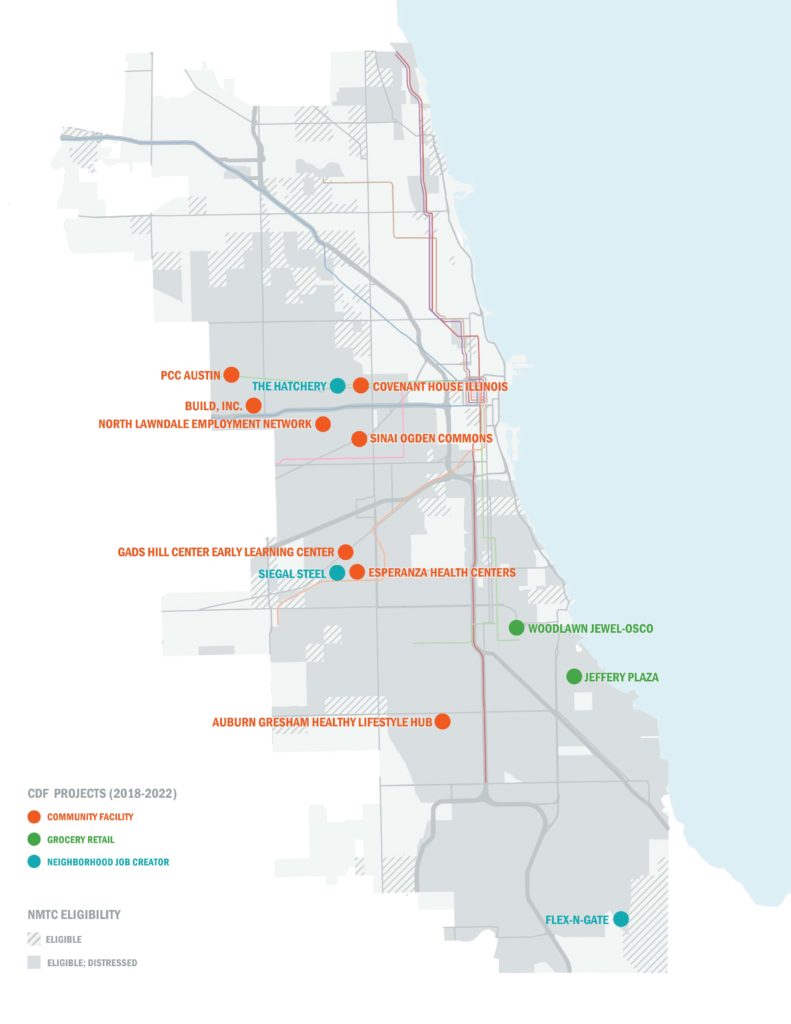 CDF invests exclusively in CDFI-fund qualified tracts on Chicago's South and West sides.
CDF has directed 100% of its NMTC investments to "Areas of Greater Economic Distress" as defined by the CDFI Fund. On average, projects supported by CDF are in Census tracts that have the following levels of distress*:
Median family incomes of 48% of the Chicago area median
Poverty rates of 33%
Unemployment rates 2.4 times the national rate
The map to the left shows the projects that CDF has supported in the past 5 years.
*per the relevant American Community Survey at the time of investment